Jeep Cherokee

Service Manual

Brakes » Antilock brakes » Description and operation

Controller antilock brakes
DESCRIPTION
The CAB is mounted to the HCU and operates the ABS system (Fig. 1) separate from other vehicle electrical circuits.
OPERATION
The CAB voltage source is through the ignition switch in the RUN position. The CAB contains dual microprocessors. A logic block in each microprocessor receives identical sensor signals. These signals are processed and compared simultaneously. The CAB contains a self check program that illuminates the ABS warning light when a system fault is detected.
Faults are stored in a diagnostic program memory and are accessible with the DRB scan tool. ABS faults remain in memory until cleared, or until after the vehicle is started approximately 50 times. Stored faults are not erased if the battery is disconnected.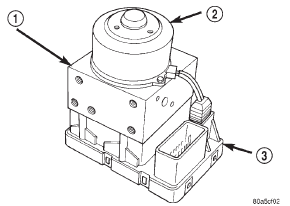 Fig. 1 Controller Antilock Brakes
1 - HCU
2 - MOTOR
3 - CAB
More about «Description and operation»:
Controller antilock brakes