Jeep Cherokee

Service Manual

Brakes » Antilock brakes » Removal and installation

G-switch
REMOVAL
(1) Raise and fold rear seat assembly forward for access to sensor.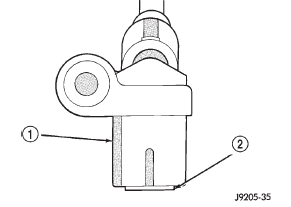 Fig. 10 New Rear Sensor
1 - REAR SENSOR
2 - AIR GAP SPACER ATTACHED TO SENSOR FACE
(2) Disconnect switch harness.
(3) Remove switch mounting screws (Fig. 11) (4) Remove the acceleration switch.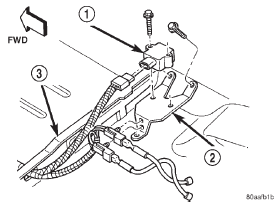 Fig. 11 G-Switch Mounting
1 - ACCELERATION SWITCH
2 - SWITCH BRACKET
3 - REAR SEAT CROSSMEMBER
INSTALLATION
CAUTION: The mercury switch (inside the G-switch), will not function properly if the switch is installed incorrectly. Verify that the switch locating arrow is pointing to the front of the vehicle (Fig.
12).
(1) Position switch in mounting bracket.
(2) Install switch mounting bolts and tighten to 3 N·m (27.5 in. lbs.).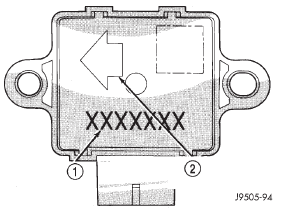 Fig. 12 G-Switch
1 - SWITCH PART NUMBER
2 - ARROW INDICATES FRONT OF SWITCH FOR PROPER MOUNTING
(3) Connect harness to switch. Be sure harness connector is firmly seated.
(4) Move seat back to normal position.
More about «Removal and installation»:
G-switch