Jeep Cherokee

Owners Manual

Understanding the features of your vehicle

Garage door opener - if equipped
HomeLink replaces up to three remote controls (handheld transmitters) that operate devices such as garage door openers, motorized gates, lighting or home security systems. The HomeLink unit operates off your vehicle's battery.
The HomeLink buttons that are located in the headliner or sun visor designate the three different HomeLink channels.
The HomeLink indicator is located above the center button.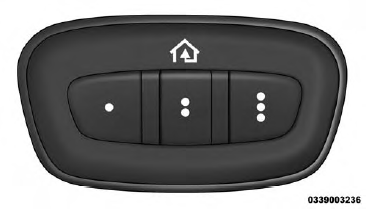 HomeLink Buttons/Sunvisor/Headliner
NOTE: HomeLink is disabled when the Vehicle Security Alarm is active.
More about «Understanding the features of your vehicle»:
Garage door opener - if equipped