Jeep Cherokee

Service Manual

Transmission and transfer case » Automatic transmission-30RH » Removal and installation

Governor and park gear
REMOVAL
(1) Hoist and support vehicle on safety stands.
(2) Mark propeller shaft and axle yoke for assembly reference. Then disconnect and remove shaft.
(3) Disconnect parking brake cable at equalizer and disconnect exhaust components as necessary.
(4) Support transmission on a suitable lifting device.
(5) Remove skid plate and rear transmission mount.
(6) Remove extension housing.
(7) Loosen but do not remove bolts that hold governor body to park gear.
(8) Rotate transmission output shaft until governor weight assembly is accessible.
(9) Remove E-clip at end of governor valve shaft (Fig. 85).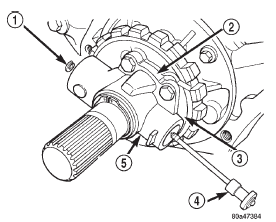 Fig. 85 Governor Valve
1 - E-CLIP
2 - PARK GEAR
3 - CURVER BOSS
4 - GOVERNOR VALVE
5 - GOVERNOR
(10) Remove governor valve and shaft from governor body (Fig. 85).
(11) Remove snap rings and spacer that retain governor body and park gear assembly on output shaft (Fig. 86).
(12) Remove bolts holding governor body to park gear (Fig. 87).
(13) Separate governor from park gear.
(14) Pull park gear from rear support.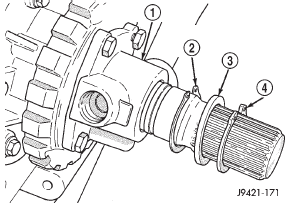 Fig. 86 Snap Rings And Spacer
1 - GOVERNOR BODY
2 - THIN SNAP RING
3 - THRUST WASHER
4 - THICK SNAP RING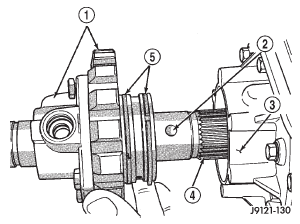 Fig. 87 Governor Body
1 - GOVERNOR/PARK ASSEMBLY
2 - GOVERNOR VALVE SHAFT BORE
3 - REAR SUPPORT
4 - OUTPUT SHAFT SPLINES
5 - SEAL RINGS
INSTALLATION
(1) Install park gear into rear support so crown on curved boss is in line with hole through output shaft.
(2) Install governor filter in park gear.
(3) Slip governor body over output shaft and align port to filter.
(4) Install bolts to hold governor body to park gear.
Tighten bolts to 11 N·m (95 in. lbs.) torque (Fig. 87).
(5) Install governor body-park gear snap rings and washer on output shaft as follows: (a) Install thin snap ring first. Then install thrust washer second, and thick snap ring last (Fig. 86).
(b) Verify correct position of snap rings. Be sure flat side of each snap ring is toward governor body.
(6) Insert governor valve and shaft through governor and install E-clip (Fig. 85).
(7) Install extension housing and gasket on transmission.
Tighten housing bolts to 32 N·m (24 ft. lbs.).
(8) Install rear transmission mount and skid plate.
(9) Install speed sensor and speedometer components and connect speed sensor wires.
(10) Connect exhaust components and brake cable, if removed.
(11) Install propeller shaft.
(12) Remove supports and lower vehicle.
(13) Check transmission fluid level. Add fluid if necessary.
More about «Removal and installation»:
Governor and park gear