Jeep Cherokee

Owners Manual

What to do in emergencies » Jacking and tire changing

Jack location/spare tire stowage
The jack, wheel chocks and spare tire are stowed under the load floor behind the rear seat.
1. Open the liftgate.
2. Lift the access cover using the load floor handle.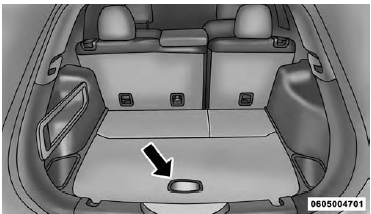 Load Floor Handle
3. Remove the hook from the stowed position on the back side of the load floor and place the hook over the top body in white flange and weather seal. This will hold the load floor up while obtaining the jack and spare tire.
4. Remove the fastener securing the jack and spare tire.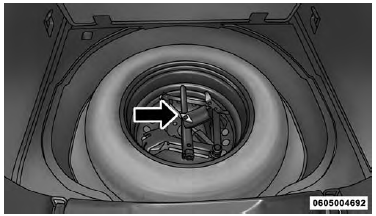 Jack And Spare Tire Fastener
5. Remove the chocks.
6. Remove the scissors jack and wheel bolt wrench from the spare wheel as an assembly. Turn the jack screw to the left to loosen the wheel bolt wrench, and remove the wrench from the jack assembly.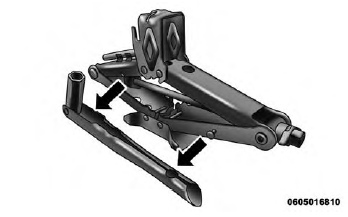 Jack And Tool Assembly
NOTE: The jack handle attaches to the side of the jack with two attachment points. When the jack is partially expanded, the tension between the two attachment points holds the jack handle in place.
7. Remove the spare tire.
WARNING!
A loose tire or jack thrown forward in a collision or hard stop could endanger the occupants of the vehicle.
Always stow the jack parts and the spare tire in the places provided. Have the deflated (flat) tire repaired or replaced immediately.
More about «Jacking and tire changing»:
Jack location/spare tire stowage