Jeep Cherokee

Owners Manual

Understanding the features of your vehicle » Lanesense - if equipped » LaneSense Warning Message

Left Lane Departure - Only Left Lane Detected
When the LaneSense system is ON, the LaneSense indicator is solid white when only the left lane marking has been detected and the system is ready to provide visual warnings in the EVIC if an unintentional lane departure occurs.
When the LaneSense system senses the lane has been approached and is in a lane departure situation, the left thick lane line flashes from white to gray, the left thin line remains solid white and the LaneSense indicator changes from solid white to flashing yellow.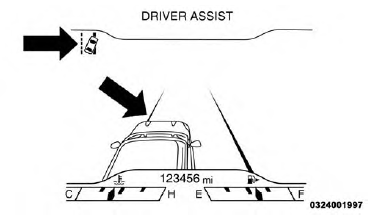 Lane Approached (Flashing White To Gray Thick Line/Flashing Yellow Indicator)
NOTE: The LaneSense system operates with the similar behavior for a right lane departure when only the right lane marking has been detected.
More about «LaneSense Warning Message»:
Left Lane Departure - Only Left Lane Detected