Jeep Cherokee

Service Manual

Body » Body component service » Removal and installation

Luggage rack
REMOVAL
(1) Remove slide rail screws (Fig. 63).
(2) Remove luggage rack from roof.
NOTE: Skid strips are attached to roof panel with adhesive.
(3) Loosen each skid strip with a heat gun.
(4) Lift one edge of each skid strip with a putty knife and peel it from roof panel.
(5) Remove original adhesive from roof with an adhesive removal solution.
(6) If original skid strips are installed, remove all original adhesive from m.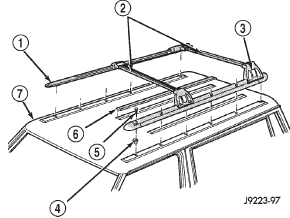 Fig. 63 Luggage Rack
1 - SIDE RAIL
2 - CROSS RAIL
3 - CROSS RAIL ADJUSTMENT RELEASE BUTTON
4 - RIVET-NUT
5 - SCREW
6 - SKID STRIP
7 - ROOF
INSTALLATION
(1) Install 3M 06379 double-sided tape, or an equivalent on skid strips.
(2) Remove backing from double-sided tape, align each skid strip on roof, and position it on roof panel.
(3) Verify that each skid strip is properly aligned.
(4) Press each skid strip onto roof panel with a roller (or use hand pressure).
NOTE: To prevent water leaks, apply 3M Drip-Chek Sealant, or equivalent.
(5) Position luggage rack on roof with screw holes aligned.
(6) Install and tighten slide rail screws.
More about «Removal and installation»:
Luggage rack