Jeep Cherokee

Owners Manual

Understanding the features of your vehicle » Windshield wipers and washers

Mist
Use the Mist feature when weather conditions make occasional usage of the wipers necessary. Push the lever upward to the Mist position and release for a single wiping cycle.
NOTE: The mist feature does not activate the washer pump; therefore, no washer fluid will be sprayed on the windshield. The wash function must be used in order to spray the windshield with washer fluid.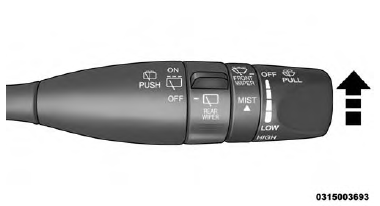 Mist Control
More about «Windshield wipers and washers»:
Mist