Jeep Cherokee

Service Manual

Steering » Steering linkage » Removal and installation

Pitman ARM
REMOVAL
(1) Remove the cotter pin and nut from the drag link at the pitman arm.
(2) Remove the drag link ball stud from the pitman arm with a puller.
(3) Remove the nut and washer from the steering gear shaft. Mark the pitman shaft and pitman arm for installation reference. Remove the pitman arm from steering gear with Puller C-4150-A (Fig. 5).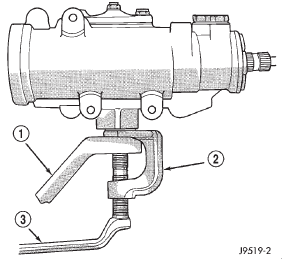 Fig. 5 Pitman Arm Puller
1 - PITMAN ARM
2 - SPECIAL TOOL C-4150-A
3 - WRENCH
INSTALLATION
(1) Align and install the pitman arm on steering gear shaft.
(2) Install the washer and nut on the shaft and tighten nut to 251 N·m (185 ft. lbs.).
(3) Install drag link ball stud to pitman arm install nut and tighten to 74 N·m (55 ft. lbs.). Install a new cotter pin.
More about «Removal and installation»:
Pitman ARM