Jeep Cherokee

Owners Manual

Understanding the features of your vehicle » Seats » Head Restraints

Reactive Head Restraints - Front Seats
The front driver and passenger seats are equipped with Reactive Head Restraints (RHR). In the event of a rear impact the RHRs will automatically extend forward minimizing the gap between the back of the occupant's head and the RHR.
The RHRs will automatically return to their normal position following a rear impact. If the RHRs do not return to their normal position see your authorized dealer immediately.
To raise the head restraint, pull upward on the head restraint. To lower the head restraint, push the adjustment button, located at the base of the head restraint, and push downward on the head restraint.
NOTE: To remove the head restraint, raise it as far as it can go then push the release button and the adjustment button at the base of each post while pulling the head restraint up. Seatback angle may need to be adjusted to fully remove the head restraint. To reinstall the head restraint, put the head restraint posts into the holes and push downward. Then adjust the head restraint to the appropriate height.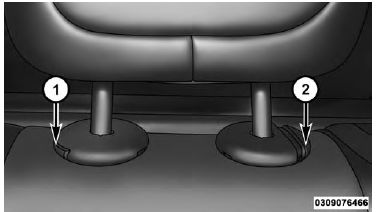 Front Head Restraint
1 - Release Button
2 - Adjustment Button
WARNING!
A loose head restraint thrown forward in a collision or hard stop could cause serious injury or death to occupants of the vehicle. Always securely stow removed head restraints in a location outside the occupant compartment.
ALL the head restraints MUST be reinstalled in the vehicle to properly protect the occupants. Follow the re-installation instructions above prior to operating the vehicle or occupying a seat.
Do not place items over the top of the Reactive Head Restraint, such as coats, seat covers or portable DVD players. These items may interfere with the operation of the Reactive Head Restraint in the event of a collision and could result in serious injury or death.
More about «Head Restraints»:
Reactive Head Restraints - Front Seats