Jeep Cherokee

Service Manual

Body » Body component service » Removal and installation

Rear door glass exterior molding
REMOVAL
(1) Open the window.
(2) Remove the outer belt molding.
(3) Pry and pull the molding sections from the door panel flange (Fig. 54).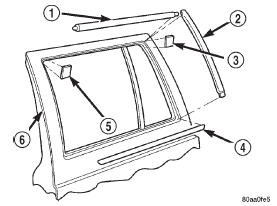 Fig. 54 Rear Glass Exterior Molding
1 - UPPER MOLDING
2 - MOLDING
3 - SHIM
4 - OUTER BELT MOLDING
5 - SHIM
6 - OUTER DOOR PANEL
INSTALLATION
(1) Starting at the forward end of the upper molding, force the molding onto the door panel flange and continue rearward until it is completely seated on the flange.
(2) Mate the rear molding with the upper molding and force the molding edge inward.
(3) Continue pressing and moving downward to complete the installation.
(4) Install the outer belt molding.
More about «Removal and installation»:
Rear door glass exterior molding