Jeep Cherokee

Service Manual

Clutch » Removal and installation

Release bearing
REMOVAL
(1) Remove transmission.
(2) Disconnect release bearing from release lever and remove bearing (Fig. 12).
(3) Inspect bearing slide surface of transmission front bearing retainer. Replace retainer if slide surface is scored, worn, or cracked.
(4) Inspect release fork and fork pivot. Be sure pivot is secure and in good condition. Be sure fork is not distorted or worn. Replace release fork retainer spring if bent or damaged.
INSTALLATION
(1) Lubricate crankshaft pilot bearing with Mopart high temperature bearing grease. Apply grease to end of long shank, small diameter flat blade screwdriver.
Then insert tool through clutch disc hub to reach bearing.
(2) Lubricate input shaft splines, bearing retainer slide surface, fork pivot and release fork pivot surface with Mopart high temperature grease.
(3) Install new release bearing. Be sure bearing is properly secured to release fork.
(4) Install transmission.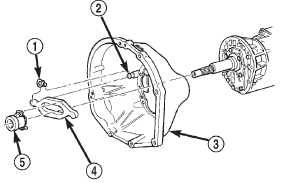 Fig. 12 Release Bearing Attachment
1 - RETURN SPRING
2 - PIVOT BALL STUD
3 - CLUTCH HOUSING
4 - RELEASE FORK
5 - RELEASE BEARING
More about «Removal and installation»:
Release bearing