Jeep Cherokee

Owners Manual

Things to know before starting your vehicle » Occupant restraint systems » Seat Belt Systems

Seat Belts And Pregnant Women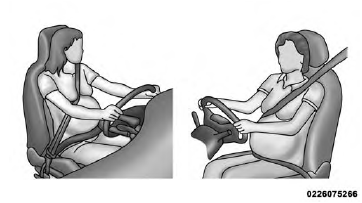 Pregnant Women And Seat Belts
Seat belts must be worn by all occupants including pregnant women: the risk of injury in the event of an accident is reduced for the mother and the unborn child if they are wearing a seat belt.
Position the lap belt snug and low below the abdomen and across the strong bones of the hips. Place the shoulder belt across the chest and away from the neck.
Never place the shoulder belt behind the back or under the arm .
More about «Seat Belt Systems»:
Seat Belts And Pregnant Women