Jeep Cherokee

Service Manual

Brakes » Antilock brakes » Description and operation

Wheel speed sensors and tone wheel
DESCRIPTION
A speed sensor is used at each wheel. The front sensors are mounted to the steering knuckles. The rear sensors at the outboard end of the axle.
OPERATION
The sensors convert wheel speed into a small AC electrical signal. This signal is transmitted to the CAB. The CAB converts the AC signal into a digital signal for each wheel. This voltage is generated by magnetic induction when a tone wheel passes by the stationary magnet of the wheel speed sensor.
A gear type tone ring serves as the trigger mechanism for each sensor. The tone rings are mounted at the outboard ends of the front and rear axle shafts.
Different sensors are used at the front and rear wheels (Fig. 2). The front/rear sensors have the same electrical values but are not interchangeable. The sensors have a resistance between 900 and 1300 ohms.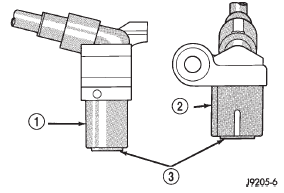 Fig. 2 Wheel Speed Sensors
1 - FRONT SENSOR
2 - REAR SENSOR
3 - PICKUP FACE
FRONT SENSOR AIR GAP
Front sensor air gap is fixed and not adjustable.
Only rear sensor air gap is adjustable.
Although front air gap is not adjustable, it can be checked if diagnosis indicates this is necessary. Front air gap should be 0.36 to 1.5 mm (0.014 to 0.059 in.). If gap is incorrect, the sensor is either loose, or damaged.
REAR SENSOR AIR GAP
A rear sensor air gap adjustment is only needed when reinstalling an original sensor. Replacement sensors have an air gap spacer attached to the sensor pickup face. The spacer establishes correct air gap when pressed against the tone ring during installation.
As the tone ring rotates, it peels the spacer off the sensor to create the required air gap. Rear sensor air gap is 0.92-1.275 mm (0.036-0.05 in.).
Sensor air gap measurement, or adjustment procedures are provided in this section. Refer to the front, or rear sensor removal and installation procedures as required.
More about «Description and operation»:
Wheel speed sensors and tone wheel