Jeep Cherokee

Service Manual

Transmission and transfer case » NV242 transfer case

Adjustments
SHIFT LINKAGE ADJUSTMENT
(1) Shift transfer case into 4L position.
(2) Raise vehicle.
(3) Loosen lock bolt on adjusting trunnion (Fig.
97).
(4) Be sure linkage rod slides freely in trunnion.
Clean rod and apply spray lube if necessary.
(5) Verify that transfer case range lever is fully engaged in 4L position.
(6) Tighten adjusting trunnion lock bolt.
(7) Lower vehicle.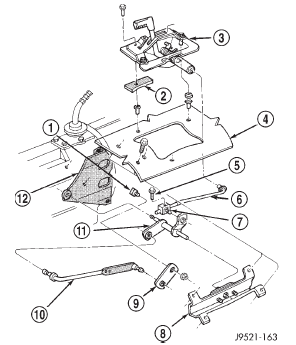 Fig. 97 Shift Linkage
1 - TRANSFER CASE SHIFT LEVER SHAFT
2 - SEAL
3 - TRANSFER CASE SHIFT LEVER ASSEMBLY
4 - FLOORPAN
5 - TRUNNION LOCK BOLT
6 - SHIFT ROD
7 - ADJUSTING TRUNNION
8 - TORQUE SHAFT BRACKET
9 - RANGE LEVER
10 - TORQUE SHAFT ROD
11 - TORQUE SHAFT
12 - LINKAGE BRACKET
More about «NV242 transfer case»:
Adjustments