Jeep Cherokee

Owners Manual

Understanding the features of your vehicle

Driver memory seat - if equipped
This feature allows the driver to store up to two different memory profiles, for easy recall through a memory switch. Each memory profile contains desired position settings for the driver seat and side mirrors and a set of desired radio station presets.
The memory switch is located on the driver's side door panel. The switch contains 3 buttons, a S (SET) button to activate the memory save function, the number (1) memory button and the number (2) memory button. The memory switch allows the driver to recall either of the two pre-programmed memory profiles by pushing the appropriate number button on the switch.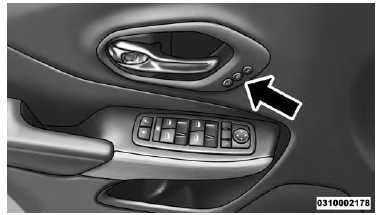 Driver Memory Switch
More about «Understanding the features of your vehicle»:
Driver memory seat - if equipped