Jeep Cherokee

Service Manual

Cooling system » Removal and installation

Electric cooling fan-2.5L
The electric fan module is only to be serviced as an assembly.
REMOVAL
(1) Disconnect battery negative cable.
(2) Disconnect CRS hose from radiator filler neck and pull through (remove) the shroud retaining loops.
(3) Detach power steering reservoir from fan shroud and lay aside.
(4) Remove the four viscous fan/drive assembly mounting nuts from the water pump studs and remove viscous fan assembly.
(5) Disconnect cooling fan electrical connector.
(6) Remove the four upper fan shroud to radiator crossmember mounting screws (Fig. 42).
(7) Lift fan and shroud assy. from vehicle (8) Detach fan harness from shroud.
(9) Remove four fan module to shroud phillips head screws (Fig. 43) and remove module from shroud.
INSTALLATION
(1) Position fan module in shroud so that the harness exits the motor at the 12 o'clock postion (Fig.
43).
(2) Install and tighten fan module to shroud screws to 3 N·m (31 in. lbs.).
(3) Route fan harness through the shroud and attach to shroud at correct position.
(4) Lower fan and shroud assembly into place, making sure the shroud alignment tabs rest in their corresponding lower radiator slots.
(5) Install upper fan shroud screws and tighten to 3 N·m (31 in. lbs.).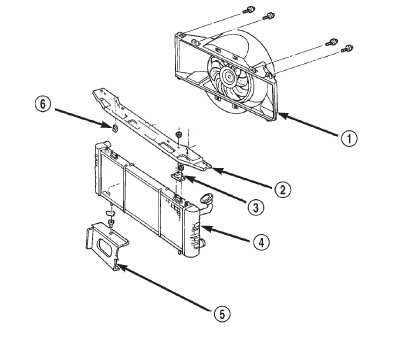 Fig. 42 Fan Shroud Removal/Installation
1 - ELECTRIC FAN/SHROUD ASSEMBLY
2 - UPPER CROSSMEMBER
3 - ISOLATOR
4 - RADIATOR
5 - LOWER CROSSMEMBER
6 - U-NUT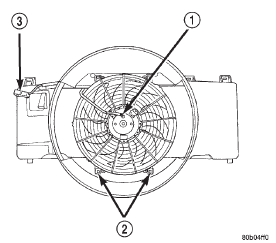 Fig. 43 Fan Module Orientation and Mounting
1 - FAN MOTOR HARNESS AT 12 O'CLOCK POSITION
2 - MOUNTING SCREWS (4)
3 - FAN CONNECTOR
(6) Connect fan electrical connector.
(7) Install power steering reservoir to shoud.
(8) Install viscous fan drive assy. to water pump hub and tighten nuts to 27 N·m (20 ft. lbs.) (9) Connect battery negative cable.
More about «Removal and installation»:
Electric cooling fan-2.5L