Jeep Cherokee

Service Manual

Transmission and transfer case » Automatic transmission-30RH » Disassembly and assembly

Front clutch
DISASSEMBLY
(1) Remove waved snap ring and remove pressure plate, clutch plates and clutch discs (Fig. 184).
(2) Compress clutch piston spring with Compressor Tool C-3575-A (Fig. 185). Be sure legs of tool are seated squarely on spring retainer before compressing spring.
(3) Remove retainer snap ring and remove compressor tool.
(4) Remove spring retainer and clutch spring. Note position of retainer on spring for assembly reference.
(5) Remove clutch piston from clutch retainer.
Remove piston by rotating it up and out of retainer.
(6) Remove seals from clutch piston and clutch retainer hub. Discard both seals as they are not reusable.
ASSEMBLY (1) Soak clutch discs in transmission fluid while assembling other clutch parts.
(2) Install new seals on piston and in hub of retainer. Be sure lip of each seal faces interior of clutch retainer.
(3) Lubricate lips of piston and retainer seals with liberal quantity of Mopart Door Ease, or Ru-Glyde.
Then lubricate retainer hub, bore and piston with light coat of transmission fluid.
(4) Install clutch piston in retainer (Fig. 186). Use twisting motion to seat piston in bottom of retainer. A thin strip of plastic (about 0.020" thick), can be used to guide seals into place if necessary.
CAUTION: Never push the clutch piston straight in.
This will fold the seals over causing leakage and clutch slip. In addition, never use any type of metal tool to help ease the piston seals into place. Metal tools will cut, shave, or score the seals.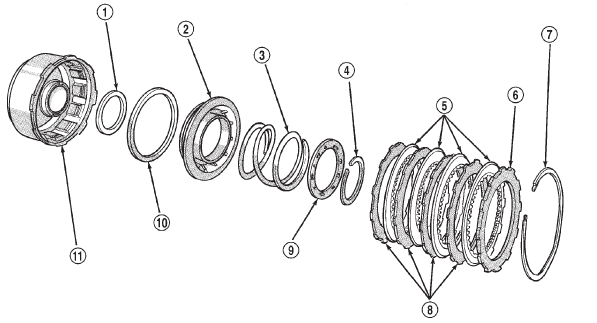 Fig. 184 Front Clutch Components
1 - RETAINER HUB SEAL
2 - CLUTCH PISTON
3 - PISTON SPRING
4 - SPRING RETAINER SNAP RING
5 - CLUTCH DISCS
6 - PRESSURE PLATE
7 - SNAP RING (WAVED)
8 - CLUTCH PLATES
9 - SPRING RETAINER
10 - PISTON SEAL
11 - FRONT CLUTCH RETAINER
(5) Position spring in clutch piston (Fig. 187).
(6) Position spring retainer on top of piston spring (Fig. 188). Make sure retainer is properly installed. Small raised tabs should be facing upward. Semicircular lugs on underside of retainer are for positioning retainer in spring.
(7) Compress piston spring and retainer with Compressor Tool C-3575-A (Fig. 185). Then install new snap ring to secure spring retainer and spring.
(8) Install clutch plates and discs (Fig. 184).
Install steel plate then disc until all plates and discs are installed. The front clutch uses 4 clutch discs.
(9) Install pressure plate and waved snap ring (Fig. 184).
(10) Using a suitable gauge bar and dial indicator, measure clutch plate clearance (Fig. 189).
(a) Position gauge bar across the clutch drum with the dial indicator pointer on the pressure plate (Fig. 189).
(b) Using two small screw drivers, lift the pressure plate and compress the waved snap-ring. This will assure that the snap-ring is at the top of the groove.
(c) Release the pressure plate and zero the dial indicator.
(d) Lift the pressure plate until it contacts the waved snap-ring and record the dial indicator reading.
Clearance should be 1.70 to 3.40 mm (0.067 to 0.134 in.). If clearance is incorrect, clutch discs, plates pressure plates and snap ring may have to be changed.
More about «Disassembly and assembly»:
Front clutch