Jeep Cherokee

Owners Manual

Understanding your instrument panel » Climate controls

Manual Climate Controls Without Touchscreen - If Equipped
The controls for the manual heating and air conditioning system in this vehicle consist of a series of outer rotary dials and inner push knobs. These comfort controls can be set to obtain desired interior conditions.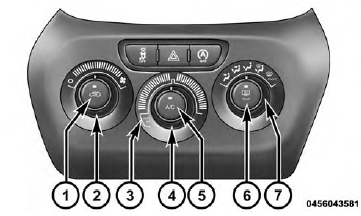 Manual Climate Controls
1 - RECIRCULATION Control
2 - Blower Control
3 - MAX Air Conditioning (A/C)
4 - Temperature Control
5 - Air Conditioning (A/C)
6 - REAR DEFROST Mode
7 - MODE Control
Blower Control

There are several blower speeds. Use this control to regulate the amount of air forced through the system in any mode you select. The blower speed increases as you move the control clockwise from the OFF position.
Temperature Control

Use this control to regulate the temperature of the air inside the passenger compartment. Rotating the knob counterclockwise, from top center into the blue area of the scale, indicates cooler temperatures. Rotating the knob clockwise, into the red area, indicates warmer temperatures.
More about «Climate controls»:
Manual Climate Controls Without Touchscreen - If Equipped