Jeep Cherokee

Service Manual

Differential and driveline » Tube, 181, and 186 FBI axle » Removal and installation

Ring gear
NOTE: The ring gear and pinion are serviced as a matched set. Do not replace the ring gear without replacing the pinion.
REMOVAL
(1) Remove differential from axle housing.
(2) Place differential case in a suitable vise with soft metal jaw protectors. (Fig. 65) (3) Remove bolts holding ring gear to differential case.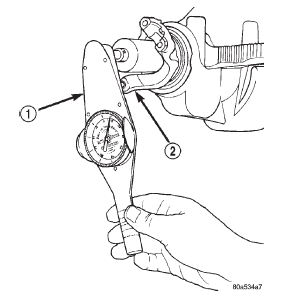 Fig. 64 Check Pinion Rotation Torque
1 - in. lbs. TORQUE WRENCH
2 - PINION YOKE
(4) Using a soft hammer, drive ring gear from differential case (Fig. 65).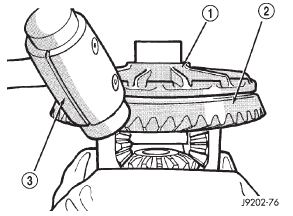 Fig. 65 Ring Gear Removal
1 - CASE
2 - RING GEAR
3 - RAWHIDE HAMMER
INSTALLATION
CAUTION: Do not reuse the bolts that held the ring gear to the differential case. The bolts can fracture causing extensive damage.
(1) Invert the differential case and start two ring gear bolts. This will provide case-to-ring gear bolt hole alignment.
(2) Invert the differential case in the vise.
(3) Install new ring gear bolts and alternately tighten to 95-122 N·m (70-90 ft. lbs.) torque (Fig.
66).
(4) Install differential in axle housing and verify gear mesh and contact pattern.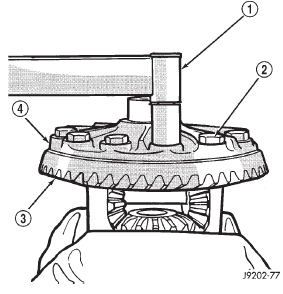 Fig. 66 Ring Gear Bolt Installation
1 - TORQUE WRENCH
2 - RING GEAR BOLT
3 - RING GEAR
4 - CASE
More about «Removal and installation»:
Ring gear