Jeep Cherokee

Owners Manual

Starting and operating

Selec-terrain
Description
Selec-Terrain combines the capabilities of the vehicle control systems, along with driver input, to provide the best performance for all terrains.
Rotate the Selec-Terrain knob to select the desired mode.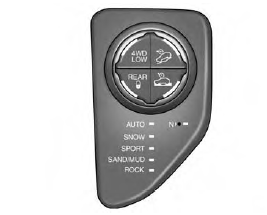 Selec-Terrain Switch
Selec-Terrain offers the following modes:
Auto - Fully automatic full time four-wheel drive operation can be used on and off road. Balances traction with seamless steering feel to provide improved handling and acceleration over two-wheel drive vehicles.
Snow - Tuning set for additional stability in inclement weather. Use on and off road on loose traction surfaces such as snow. When in SNOW mode (depending on certain operating conditions), the transmission may use second gear (rather than first gear) during launches, to minimize wheel slippage.
Sport-This mode alters the transmission's automatic shift schedule for sportier driving. Upshift speeds are increased to make full use of available engine power.
NOTE: SPORT mode is not available when 4WD LOW is selected.
Sand/Mud - Off road calibration for use on low traction surfaces such as mud, sand, or wet grass.

Driveline is maximized for traction. Some binding may be felt on less forgiving surfaces. The electronic brake controls are set to limit traction control management of throttle and wheel spin.

Rock - Off-road calibration only available in 4WD LOW range. Traction based tuning with improved steer-ability for use on high traction off-road surfaces.

Use for low speed obstacles such as large rocks, deep ruts, etc.
NOTE:
Rock mode is only available on the vehicles equipped with the Off-Road package.
Activate the Hill Descent Control or Selec Speed Control for steep downhill control. See "Electronic Brake Control System" in this section for further information.
Electronic Vehicle Information Center (EVIC)/Driver Information Display (DID) Display Messages
When the appropriate conditions exist, a message will appear in the EVIC/DID display. Refer to "Electronic Vehicle Information Center (EVIC)/Driver Information Display (DID)" in "Understanding Your Instrument Panel" for further information.
More about «Starting and operating»:
Selec-terrain