Jeep Cherokee

Service Manual

Transmission and transfer case » Automatic transmission-30RH » Removal and installation

Adapter housing
REMOVAL
(1) Hoist and support vehicle on safety stands.
(2) Support transmission with a suitable lifting device.
(3) Remove transmission skid plate. Refer to Group 13, Frame and Bumpers, for proper procedure.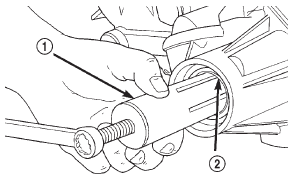 Fig. 73 Bushing Removal-Typical
1 - REMOVER 6957
2 - EXTENSION HOUSING BUSHING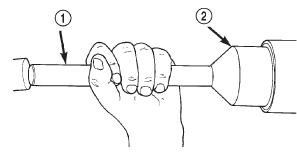 Fig. 74 Extension Housing Seal Installation
1 - SPECIAL TOOL C-4171
2 - SPECIAL TOOL C-3995-A
(4) Remove propeller shafts. Refer to Group 3, Differential and Driveline, for proper procedure.
(5) Remove transfer case.
(6) Remove bolts holding adapter housing to transmission case (Fig. 75).
(7) Separate adapter housing from transmission.
(8) Slide adapter housing rearward and off output shaft (Fig. 75).
INSTALLATION
Clear gasket material from sealing surfaces on adapter housing and rear of transmission. Replace output shaft bearing, if necessary.
(1) Install new rear seal in adapter housing. Use Tool Handle C-4171 and Seal Installer C-3860-A to install seal.
(2) Place adapter housing gasket in position on rear of transmission.
(3) Slide adapter housing forward and over output shaft (Fig. 75).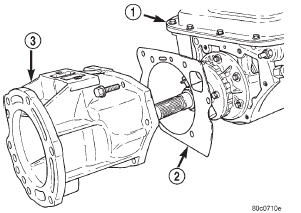 Fig. 75 Adapter Housing
1 - TRANSMISSION
2 - GASKET
3 - ADAPTER HOUSING
(4) Guide park shaft into park sprag and push adapter housing forward until rod passes through opening behind sprag. It may be necessary to use a wire to hold sprag to the side for rod to pass through.
(5) Install bolts to hold adapter housing to rear of transmission.
(6) Install transfer case.
(7) Install propeller shafts.
(8) Install rear transmission mount and skid plate.
(9) Lower vehicle and verify transmission fluid level. Add fluid as necessary.
More about «Removal and installation»:
Adapter housing