Jeep Cherokee

Service Manual

Fuel system » Fuel delivery system » Removal and installation

Fuel injectors
REMOVAL
(1) Remove fuel rail. Refer to Fuel Injector Rail Removal in this section.
(2) Disconnect clip(s) that retain fuel injector(s) to fuel rail (Fig. 32).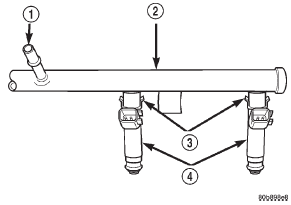 Fig. 32 Fuel Injector Mounting
1 - INLET FITTING
2 - FUEL INJECTOR RAIL
3 - CLIP
4 - FUEL INJECTOR
INSTALLATION
(1) Install fuel injector(s) into fuel rail assembly and install retaining clip(s).
(2) If same injector(s) is being reinstalled, install new o-ring(s).
(3) Apply a small amount of clean engine oil to each injector o-ring. This will aid in installation.
(4) Install fuel rail. Refer to Fuel Rail Installation.
(5) Start engine and check for fuel leaks.
More about «Removal and installation»:
Fuel injectors