Jeep Cherokee

Service Manual

Transmission and transfer case » AW-4 automatic transmission » Description and operation

Transmission cooler
DESCRIPTION
MAIN COOLER
The transmission main cooler is located in the radiator. The main cooler can be flushed when necessary, however, the cooler is not a repairable component.
If the cooler is damaged, plugged, or leaking, the radiator will have to be replaced.
AUXILIARY COOLER
The auxiliary cooler is mounted in front of the radiator at the driver side of the vehicle (Fig. 36).
The cooler can be flushed when necessary, while mounted in the vehicle. The cooler can also be removed for access, repair, or replacement as needed.
The main and auxiliary coolers should both be flushed whenever a transmission or converter clutch malfunction generates sludge, debris, or particles of clutch friction material.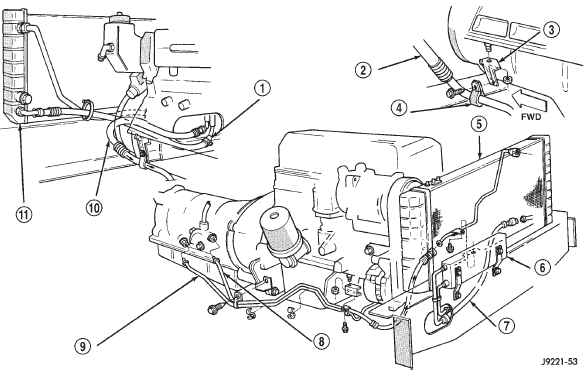 Fig. 36 Auxiliary Cooler Mounting (Left Hand Drive)
1 - COOLER INLET LINE
2 - COOLER RETURN LINE
3 - COOLER LINE BRACKET
4 - CLIP
5 - RADIATOR
6 - AUXILIARY COOLER
7 - COOLER RETURN LINE
8 - OUTLET LINE (FROM TRANSMISSION)
9 - RETURN LINE (TO TRANSMISSION)
10 - COOLER RETURN LINE
11 - RADIATOR
COOLER SERVICE
The main cooler (and radiator) and the auxiliary cooler can be removed for service or access to other components. Auxiliary cooler removal requires that the front bumper and radiator support be removed for access to the cooler lines and attaching bracket.
More about «Description and operation»:
Transmission cooler